UNUSUAL BUSINESS AS USUAL
We are still working on projects during the Lock-Down period using Zoom and a sturdy 2m barge-pole. Don't hesitate to get in touch if we can assist on any aspect of current or upcoming projects.
Keep Safe, Keep Well, Keep in Touch !
SaniArch – walk-through sanitising arch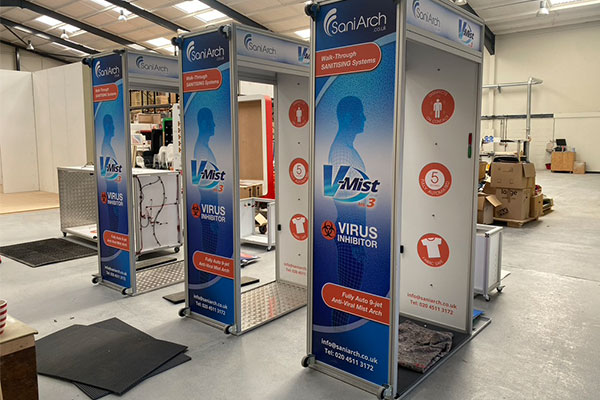 UnusualExpo have been tasked to help design and develop a walk-through sanitising arch. This has been created in conjunction with Chemical suppliers JennyChem, system designers RTD OctanormUK and exhibition company ESM. It delivers a full body anti-viral mist to help prevent virus spread and protect against cross contamination. Intended for the exhibition and events industry it has also been explored by care homes, sports arenas and retail.
www.saniarch.co.uk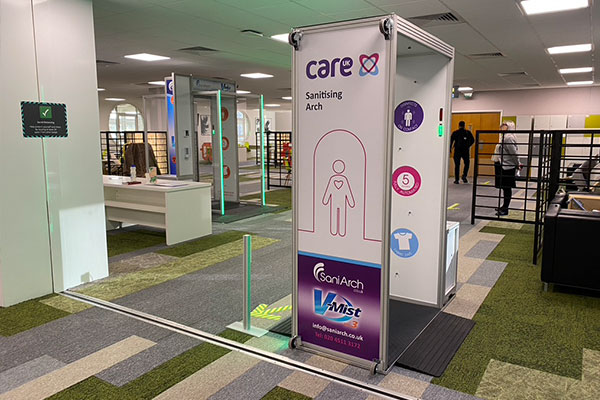 Reigate Shop Front Designs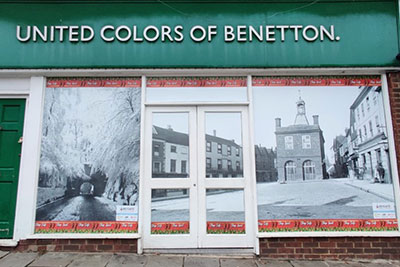 Unusual Expo were asked for ideas to cheer up the empty shops in Reigate. We asked Frith Images for help. Having been based in the town between 1860 and 1970 Frith have a fantastic collection and we combined these with some removable Christmas ribbon so that the units will still look their best after the festive season. The windows have been extremely popular with locals and visitors and serve to show that Reigate high street has seen many ups and downs over the decades but has adapted and survived.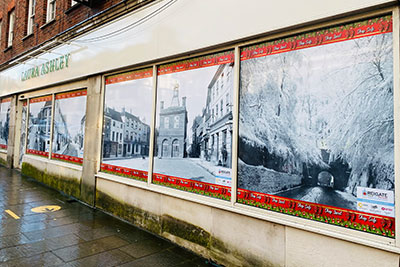 The Spanish Flu exhibition at the Florence Nightingale Museum, winner of the best UK temporary exhibition at the Museum and Heritage Awards
We don't do ordinary! Unusual Expo were very proud to have designed the Spanish Flu exhibition at the Florence Nightingale Museum, winner of the best UK temporary exhibition at the Museum and Heritage Awards.
Our thanks go to David, Kristin, Holly and Hannah who let us loose on this brilliant project.
Unusual designed and created this poignant reflection on 100 years since the 1918 Spanish Flu pandemic at the Florence Nightingale Museum, London. Within a cleverly mirrored recreation of a military field tent the most has been made of a limited space complete with video projected beds, mechanical interactives, a shocking UV virus reveal and a scratch card trail.
Design
We have designed all manner of exhibitions, events and experiences. We can produce original concepts or work up an existing design or proposal. Whether you have prepared a detailed brief, just a simple idea or need something worked up from scratch we can take it from here.
Create
Our team oversee all aspects of the creative process from physical build, graphics, audio visual and interactive presentation. We work up concepts through detailed drawings, site layouts and content storyboards to ensure you get stage by stage feedback as projects progress.
Deliver
We have delivered projects in the UK, Europe, Middle and Far East, America, Africa and the Isle of Wight. Venues have been inside and outside, in vast exhibition halls and historic stately homes, museums, even a phone box. We pride ourselves in delivering projects on time and on budget.
Ashes Sleepover at the Ageas Stadium
Unusual were asked by EGiLive to create a warm and inviting environment for guests attending an overnight screening of the Ashes opening match at the Media Centre in the Hilton Ageas Stadium, Southampton. We brought our best 11 Hilton specification beds, lighting and atmosphere to work with Luna Cinema's big screen experience. Bringing beds to a hotel is ultimately ironic but we were able to make a great evening very memorable indeed. Certainly an Unusual evening for all concerned.
Gatwick Jobs Fair
Job fairs are run of the mill but we wanted to create something that is Unusual to this format. We were tasked with creating a bespoke environment to host 40 companies wanting to meet over 1500 attendees. Our design placed companies within themed zones and gave each one a branded backdrop and counter. This meant every company had equal billing and could just turn up with everything prepared – no need to bring posters and blu-tac for once! With an inflatable interview pod, live graphic wall and engaging seminar events EGiLive produced a spectacular day.